Why do the Norwegian authorities make a swan dance around Islam.
Tuesday, January 16, 2019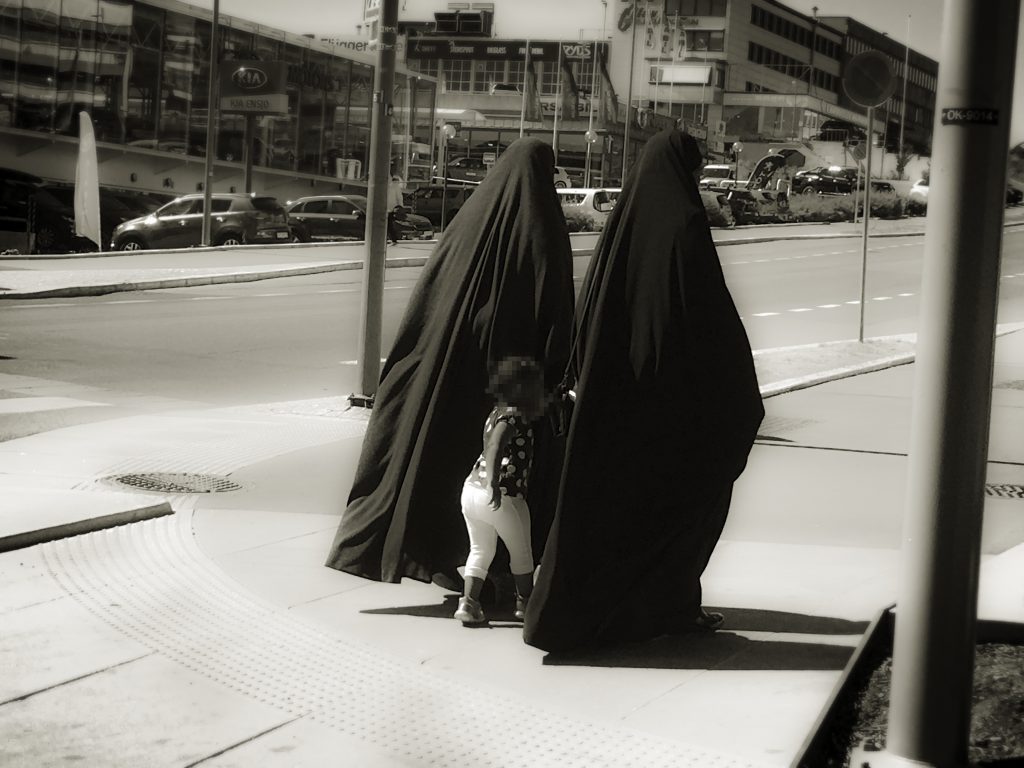 We see an increasing adaptation to the Islamic law of Sharia.
By Hege Storhaug, www.rights.no
We who have known Oslo in about one generation (= 33 years), often do not feel at home anymore. The Arabization through especially girls and women's clothing suits, which shot violently across the country after the migration crisis in 2015, causes many to react. Not to mention the largest group from Islam-dominated countries, Somalis, who fill in particular Oslo's inner east.
Culture walks with people, and the more wandering, the stronger people take with them both culture and religion, especially when the latter is Islam. And precisely Islam pushes forward in our streets, an Islam that is at its core a set of rigid rules of life and a hard law system. This is a fact, but most of all should be ignored by both politicians most and almost all leading media, while academia barely facilitates the eyelid.
We are alienated in our own home, Norway. Last year, HRS decided to photo document the "cultural revolution" that is happening outside our living windows, especially with your readers. The contributions have been many and good. As from Stavanger.
For some residents, including inmates, and especially those from the Islam-dominated world who left their homeland to seek shelter from power misery, the development of patience erodes. You want political action to push Islam's power demonstration in the background. So far, hardly anything happens from our foremost political body, the Storting. We have asked politicians at the hands of whether Islam's advancement is a theme in the political backdrops. The feedback is that Islam is a non-theme. Think it.
This is perhaps the greatest political betrayal of our time. A complete antiquarian human and social view is thus allowed to attach deeper and deeper roots to what was once the home of the Norwegian people with pillars of Christianity.
This is truly the cultural revolution of our time, and it is a revolution that is pointing backwards, far backward, worthy of value. And we have a lot to lose – just value.
The economic also destroys people's patience. We are predicted to be 10,000 more in tax per person a year in around 2025. Erna Solberg has even tried to prepare for a work week of 43 hours. And we all – who have eyes and ears open – understand that the main reason is that too many unqualified people have come to Norway who live as if Norway were an eternal free lunch.
The employment figures speak for their very clear language. Disappointing few from the Islam-dominated world are in full-time work, we could show in 2014: Only 15 percent of Somalis work 30 hours per week or more. For Eritreans, the figure is 19 per cent. Syrians are well below 10 percent, Document wrote a few days ago. The share of community resources used for additional immigration and integration costs is increasing year by year, and for most people, the failed integration is linked to the number of hijabs and also the nikab. Do not sniff the snare, this can trigger a dangerous anger in parts of the population.
The recently deceased Arabian giant in Norwegian contemporary, Walid al-Kubaisi, said the following in the last major interview with him:
"Assimilation for me is a mental state where one lives by Norwegian values ​​and thinks as Norwegians."
Can people then use the hijab – and think like Norwegians? No, al-Kubaisi replied:
"… The hijab doesn't belong at school or at work. Hijab is for me a symbol of political Islam and a belief in sharia, the caliphate and a theological system that collides with democracy. It has nothing to do with Norwegian and Western values. If one goes with the hijab, one tells the outside world that one wants the Quran to be part of the society. "
I'm afraid of Islam
Same al-Kubaisi openly expressed his disappointment at muslims in Norway that he thought had "listed" himself "unwise".
"We (the Muslims) have reinforced the image media have mirrored: that Muslims are primarily religious beings who cannot liberate themselves from the traditions of the Middle Ages. Is it strange that people are skeptical about us? The Muslims in Norway must know that they are the weakest minority. Why? Because Norwegians fear them. The resistance to immigration is about the Muslims – not Poles, Vietnamese and Tamils. No one fears them. Norwegians fear the religion of Islam and that Islam must influence Norway. And I understand them. I myself am scared of Islam. Who will not be when one sees how political Islam destroys countries by country in the Middle East, and how many Muslims in Europe live in ghettos and hold on to traditional beliefs about how society should be governed (my highlight).
And I can say al-Kubaisi: I am also afraid of Islam, but even more afraid of the political paralysis of the "religion" of fear.