Unrest in the book industry: Book sales go down sharply
Monday, 20 August 2018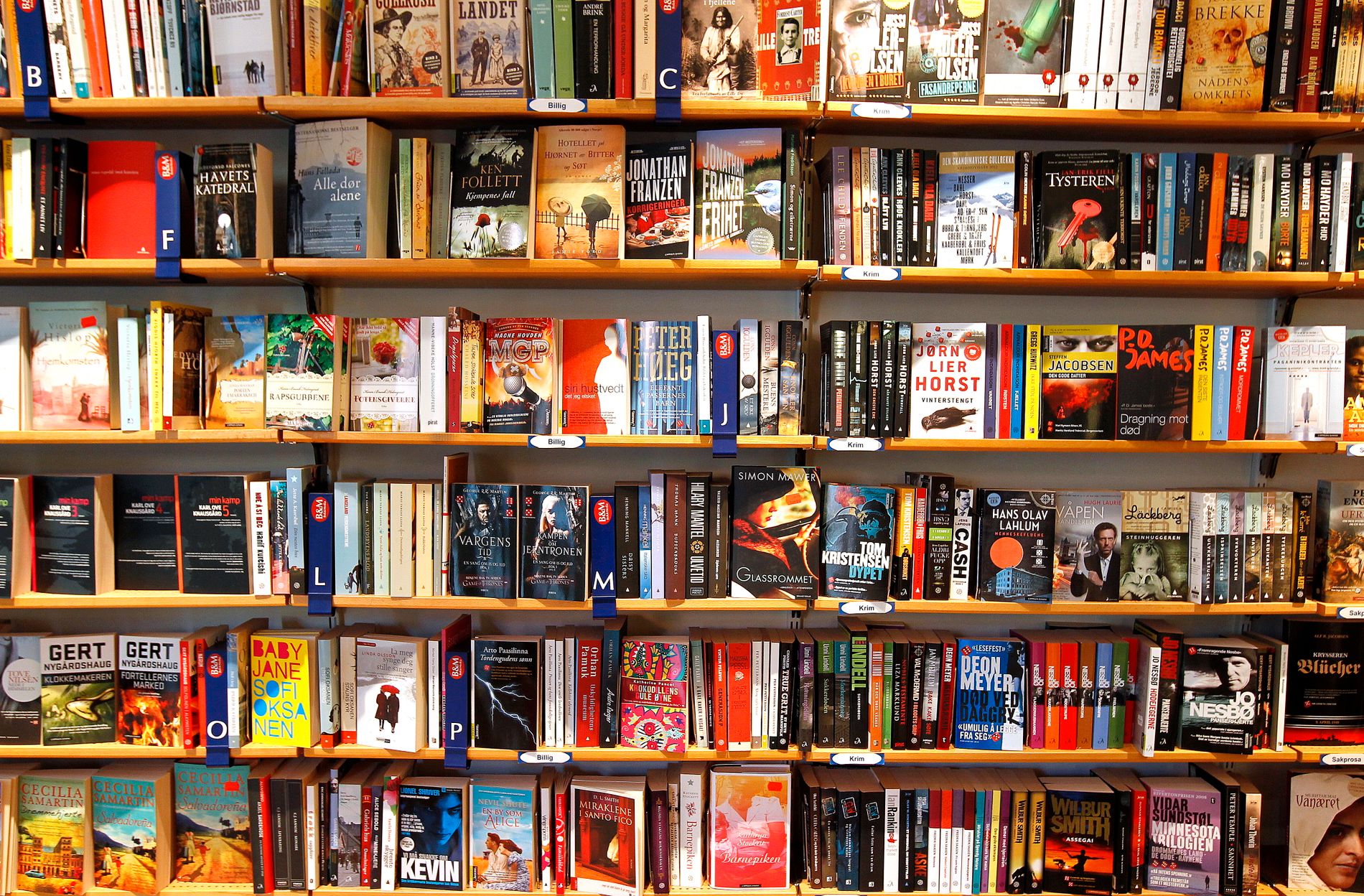 After a sharp decline in paper book sales in the first half of 2018, and an equally bad summer, there is turmoil and concern among Norwegian publishers and bookstores.
These days, publishers publish their autumn books with brass and bram, press conferences and publishing parties. They all believe in "the best autumn of the times", but the talk in the corridors is that the arrows for book sales continue to point downwards.
According to figures from the Publishers' Association, sales of fiction went down by 13 per cent compared to the same period last year, while total book sales declined eight per cent.
According to the Bookstores Association, these figures show sales from publishers, and they think the real number of sales out of stores shows a decline of around 5 percent. The arrows have continued down this summer, and most VG have talked with the trace that it will only continue.
It is not the worst summer, but after several years of upturn, we have now had several years of decline. This is the worst half year since 2012, says CEO Trine Stensen in the Bookkeeping Association, who believes it is cause for concern.
Yes, I'm worried about the book and the reading if the exposure disappears. When the American bookstore chain Borders went bankrupt, only 50 percent of the book sales were caught by e-commerce.
Has put down stores
Norli Libris boss John Thomasgaard shares the concern and can also state that they have put down some smaller stores this year.
There are not many, but some. This is something we are now considering more when contracts expire than before. Marginal stores are exposed. We will probably get a little fewer, but a little bigger shops in the future. There is a lot to suggest that there is no room for as many bookstores as before. But this also applies to retail trade in general, says Thomasgaard, who follows the market closely.
The book market has largely declined every single month since December 2016. This has continued into 2018 and will only continue for a while. This is in many ways a reported murder, and it should not come as a big surprise to people. Actually, this decline would have come a long time, says Thomasgaard.
He believes the industry has to change in every aspect.
"We must look at how to more efficiently deliver a wide range of books to the most possible readers. It is very expensive to distribute books small and wide, says Thomasgaard
.
Does Jo Nesbø have a duty?
He does not think "the best harvest of the times" can save the development.
"No, the harvest will be good, but it's limited what it can do with the whole market being changing. It will not be easier to be publishers in the future, we will see that smaller volumes go out to the end customer. But there will always be room for the good releases.
Some say that the decline this half year is due to not joining Nesbø with a new Harry Hole book?
"We can not put all the blame there now. But it is clear that some releases, such as Nesbø Harry Hole, Jojo Moyes' books and 'Fifty Shades', reach out to completely different groups than the traditional bookkeeper group. But neither is Nesbø near any of the volumes he had when he was at the top, says Thomasgaard, who believes the reasons for the decline are compounded.
There are many factors, but there is no doubt that sound streaming services have been successful. Something goes there, something goes for other entertainment. There are relatively more people sitting with the iPad than a book now. We compete with a sea of ​​other media.
… But we hear books
The audio book streaming service Storytel can announce new records during the summer vacation, and now have 100,000 subscribers. Asking about the audio book can "save" the book industry, says CEO Håkon Havik in Storytel.no:
Yes, audiobooks can be of great help to a book market in decline. In Sweden, the book market has begun to increase again due to audiobooks, and I hope the same can happen in Norway, says Havik.
Many believe the smaller publishers will notice the decline best, and publishing director Richard Aarø in the time is worried that trends in the market represent a lasting change.
And I think that is unfortunately the case. This means tougher times and we will have to fight even harder about the customer's time in the future, says Aarø, who believes we will see an industry changing in the future.
– Yes, to the highest degree. Change will be everyday.
He believes that growth will come within new forms of distribution.
"This may be positive for readers, but the publishers' finances are largely based on the sale of paper books at full price, and it is enough here that the decline is most noticeable," says Aarø.
One who does not notice the turmoil is Kari Spjeldnæs, Deputy Director in Aschehoug, who is the owner of Norli Libris. She says to VG that there is little turmoil with them, but that they have registered that the total industry figures show a decline.
"It's not new that the retail market fluctuates with the best sellers. Maybe a very hot summer also affected book sales, says Spjeldnæs.