Was 25 years before he dared to swim in the Oslo Fjord
Friday, July 20, 2018
The fear is due to one and only one movie, "Jaws", which is candidate number two in the list of the darkest horror films of all time.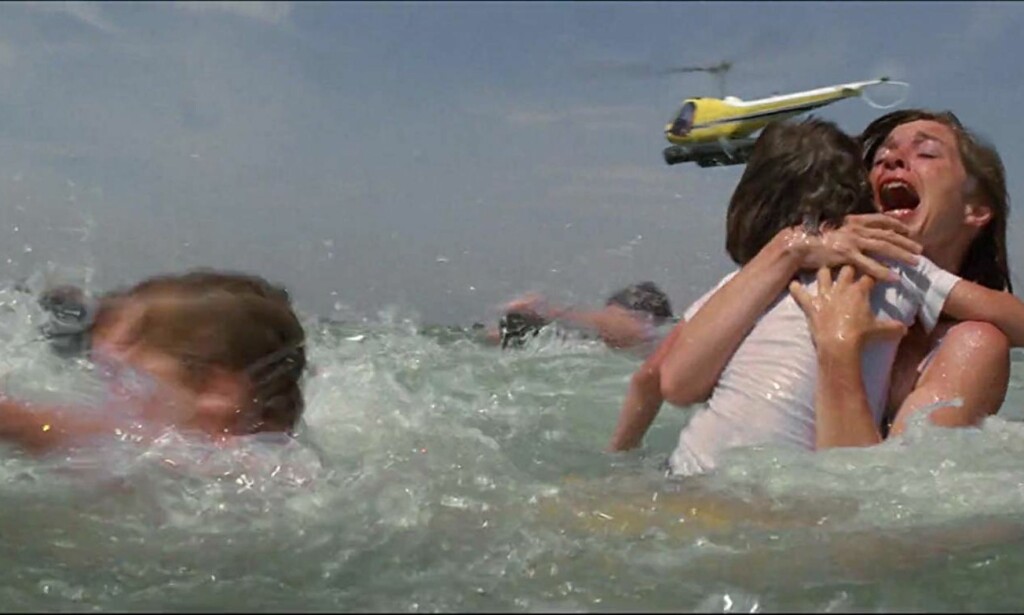 It's a warm summer night. You throw yourself in the fresh waters and swim out of the shore. Suddenly something bites you hard in your leg and draws you under water. You're crying out of pain and shock. Helplessly, you are thrown around like a cat-lingering cloak in the mouth of a rottweiler. You're giggling feverishly for air. The water around you is filled with blood. It will not leave you. You swim to a bow and cling onto it. But to no use. You are pulled back with even greater power. Ribs are broken, the legs wear off close. You know this is the end. And you are dragged underwater for the last time.
This is how "Jaws" starts. The brutal monster is introduced. The fear is set. The panic is on standby. Let the fun begin.
Shark fear in the summer
He was close to 25 years before he dared to swim in the Oslo fjord. And this fear is caused by one and only a movie, namely "Jaws". Steven Spielberg's masterpiece from 1975. A pop-cultural phenomenon and reference point in the horror and thriller changer.
A very aggressive and hungry shark terrorizes the waters around a small and drowsy American beach town. The authorities, motivated by the money the tourists leave, decide first to dodge it all down. Then they claim to have killed the guilty shark. Before they realize that it's just a solution; a good old-fashioned shark hunt.
The local sheriff, together with a marine biologist and a drunk shark hunter, takes up the fight against this huge beast. For this shark is not a small one.
The shark does not get good of this. It appears to be vengeful, enchanted and human. It makes Moby Dick appear as a mild and forgivable little pet.
What you see is not the scary thing
Animals are often used in movies to scare our lives. It may be extra scary as these animals actually exist. Unlike a vampire or zombie. And we can probably assume that there are minorities of zoologists who have written these movie scripts.
The animals are stigmatized and demonized one by one. But no other animal as much as the shark. And never with more conviction than in "Jaws".
The film is based on Peter Benchley's 1974 novel with the same name. He later stated that if he had actually had any knowledge of the shark he would never have written such a book. Well, a little late to come with, after giving the reputation of the shark a near irreparable scratch in the paint.
The film became a giga success, and the first movie to earn over $ 100 million at American cinemas. It is interesting to note that we do not actually see the shark until after about 80 minutes. And here is also some of the recipe for the film's success. Keeping the predator hidden pours our imagination and increases the excitement. That's hidden, which really scares. And one thing is for sure; It does not get much more exciting and scary than this.
Classical movie music
The film music is a chapter for itself. You almost get chills on your back just by humming that dun … That's dun … That's dun …
We rise from the cold, deep and dark waters, and shine the little human body where it swims alone with the sky alone as a background. We are slowly approaching. That's thin … Dah thin … That's thin … The little legs move keenly in the water. We move faster. We are almost ahead. That's dun … That's thin … That's thin … Snap!
And the film, or more precisely composer John Williams, also received Oscar for best song. Highly deserved.
Funny that Spielberg obviously reacted with laughter the first time he heard the title track. He thought it was a joke and asked Williams what song he had actually taken for the film. Another proof that you should often rely on professionals.
– You will need a bigger boat
Many have argued that the movie was not about a shark, but it's a metaphor for something else, be it infidelity, masculinity, Watergate or Marxism. Spielberg has, however, been asked about this and then answered; «No. It's a movie about a shark ». Fair enough.
The film has an exceptional nerve and intensity. Great photo, creative camera shooting and smart clips give the movie both visual enjoyment and tremendous excitement.
Spielberg is a masterful storyteller and atmosphere. He has full control over his universe and gives us, thanks to a rocky manuscript, a series of extremely strong and near iconic scenes and replicas. Performed by characters we actually care about.
The opening scene alone, the poor girl who takes an innocent night bath, unaware of what awaits in the depths, gives more unhappiness and fear than most modern horror films manage to evolve throughout their playing time.
And the monologue of Robert Shaw, who plays shark hunter Quint, about the wreck of the warship Indianapolis, who had just delivered the Hiroshima bomb, and how nearly everyone was attacked and killed by hungry sharks. So wonderfully presented that it gives us goose bumps.
Wait for the bathing season to end
Even over 40 years later, it still scares the waters of the audience. We are stupid by admiration of how terrifyingly effective this film was (and still is), while being a bit pissed on it deprived us of so many good bathing years.
The original got three followers, and has inspired an armada of films like casher into our fear of what moves around the big dark sea. But none of these reaches "Jaws" to the ankles.
A classic and undisputed masterpiece. But wait to see it until the bathing season is over. That's dun … That's thin … that's thin …
My comment on this is:
I was frightened for several years, could not bathe for three years. I was 16 years old, in fifth row in the big screen cinema. The shark was huge and frightening. Had nightmares for several years about the shark that ate me.