Saturday, July 7, 2018



Historic warmths all over the world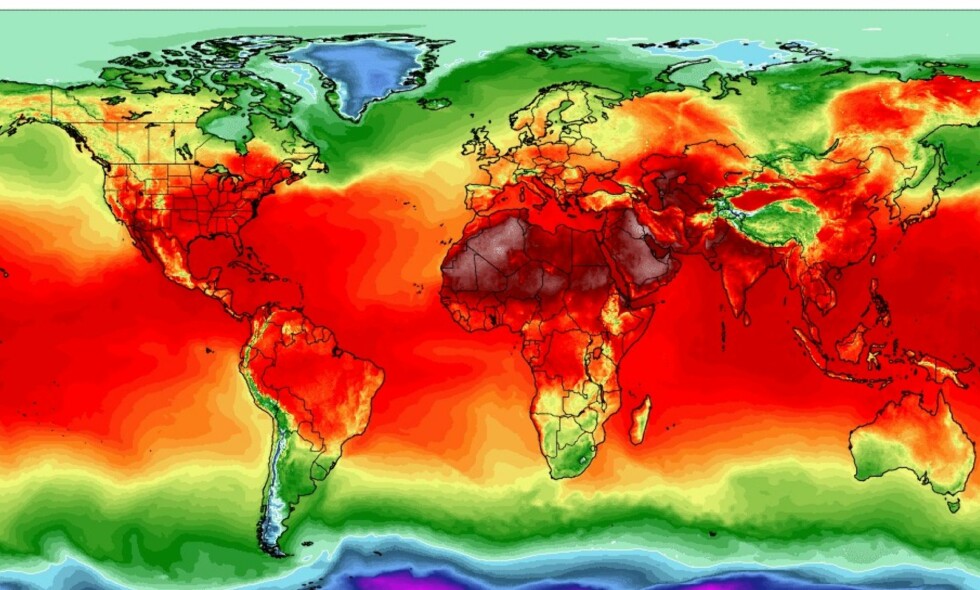 It's not just in Norway it's been an unusually hot summer.
Over the last few weeks there has been heat warfare worldwide. It has happened in such different places as usually cool Ireland to Canada and the Middle East.
On Wednesday, Dagbladet wrote about how southern Norway lies in a heat bubble of two high pressures.
Similar heat bubbles that have occurred in various places over the northern hemisphere lately, are what causes temperatures to rise to new records, according to The Washington Post.
They made an overview of the recordings Tuesday, and have had to update this with still new recordings over the week.
"Individual record in isolation can not be attributed to global warming. But overall, these records are consistent with the extreme weather we can expect to see more of on an ever warmer planet. "They stuck.
Will be more records
Climate researcher Eystein Jansen at the Bjerkness Center at the University of Bergen says the many records around the world do not need to be linked to global warming, but that climate change increases the likelihood of heat corrosion.
"It may happen a few years that the high pressures add to such an unusually hot, but it is strange that it does over so large areas, in several parts of the world, and that it becomes absolute records. The UN climate panel has said that periods of extreme heat will come more often as a feature of global warming. When the average temperatures rise, the peaks will also rise, he constants.
He further says that even though there may also be cold records, over time it has been seen that it is now more frequent than the warnings.
– So there can be more such summers like this in the future, and warmer than this too?
"Yes, it is related to the emissions of greenhouse gases, but analyzes have shown that in countries such as India and Pakistan, the temperature as today is the 10 percent warmest will be the norm. Also in southern Europe there will be the extremely high temperatures that become normal. What comes with is drought with subsequent food shortages and forest fires.
Historically hot in Norway
In Norway, eight out of ten records of measurement stations with the highest average maximum temperature over one month are measured from May or June this year.
"It has been unusually hot from mid-May to mid-June," says climate watch Lillian Kalve at Meteorological Institute to Dagbladet.
Especially in May there was a record heat.
– Monthly temperature was 4.4 degrees above normal. It is the warmest in the series dating back to 1900, "says Hanne Heiberg, researcher at the department of climate services at the Meteorological Institute.
According to the climate watch, there is a new record for the number of tropical days during a summer if the high temperatures continue, as it seems.
Here are some of the hot records that The Washington Post has listed from last week in the rest of the world:
USA and Canada
A massive hot wave has enclosed two thirds of the United States and Canada from the east since the end of last week. It has not only been hot but also extremely moist.
* In Denver in Colorado, it was measured 40, 5 degrees on 28 June. The warmest temperature measured here ever.
* In Montreal, Canada, they measured the highest temperature in modern times on July 2nd. The temperature range here goes back 147 years in time and the record temperature was set to 36.6 degrees.
Europe
Scotland: Scotland has clocked its warmest temperature ever since measured on 28 June this year. It occurred in Motherwell, southeast of Glasgov, where it was measured 33, 2 degrees.
Ireland. Measured new maximum temperature on June 28th, at 32 degrees.
Eurasia
Tbilisi, in Georgia, recorded record 4 July. 40.5 degrees is the highest temperature ever measured in the Georgian capital.
Middle East:
The city of Quriyat in Oman also put a heat record on June 28, when the lowest daily temperature never came below 42.6 degrees.